---
【Why Reusable Umbrella Bags?
】
"Theoretically, umbrella bags are supposed to be reusable. In reality, they are made disposable. Bins on the streets and alleys are always filled with plastic umbrella bags whenever it rains. These one-time-only plastic umbrella bags are sent to landfills and become waste that will not degrade for thousands of years. Shopping malls kindly provide free plastic umbrella bags, but at the same time, they feed garbages to landfills. Gradually, landfills get saturated and need to be expanded. Who will be affected? Of course, we the citizens suffer the consequences."

>> Picture and text reference from 「落雨天的膠災」- click here to learn more.

Say no to plastics umbrella bags from now on!😠

【How to Use?】
Dimensions: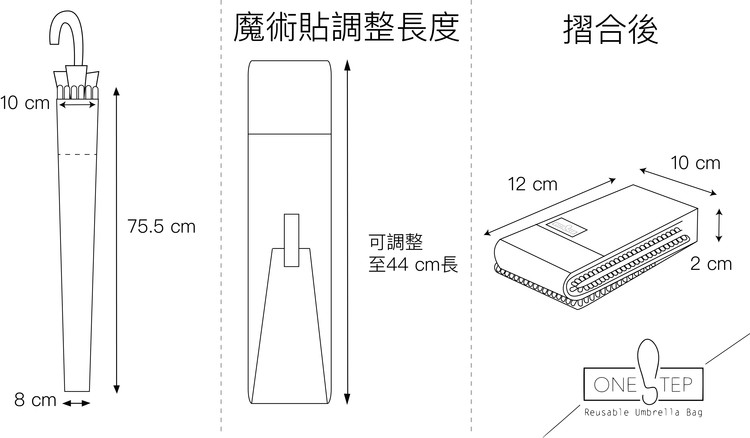 Weight: 55 g
Material: Waterproof layer on the outside, water-absorbing fiber on the inside
Colour: Sky blue/ blueberry/ Cherry Red/ Orange/ Grey/ Carbon Black 
    (Colour of the actual product may slightly vary from the image)
Water absorbent:

Water absorption is 10 times than that of cotton. The water evaporates quickly to prevent bacteria growth.

Waterproof design:

The outer layer is made of waterproof material to prevent excessive water from seeping through

Easy to clean:

Hand wash or machine wash with a small amount of detergent

Light and small in size:

Lightweight, foldable and portable

Easy to use:

Water-absorbing fiber at the top effectively absorb water droplets

Versatile:

Adjustable velcro strap at the end allows different uses

Durable:

Reusable and replaces disposable plastic bags
Washing Precautions:
When the umbrella is completely wet, the surface may get damp. Do not put it in purses in the prevention of damping other belongings.
Do not wash with light coloured clothing.
Do not bleach.
Do not use softener.
Dry naturally.